Monk Fruit - The "Zero" Sweetener You Need
For centuries, monk fruit, also known as lo han guo, has been used in Eastern medicine as a cold and digestive aid. Thanks to its concentrated sweetness (150 to 200 times sweeter than sugar) monk fruit is gaining popularity in the U.S. and is being used by both manufacturers and consumers to sweeten foods and beverages.
Benefits of Monk Fruit Sweetener
In addition to containing zero calories, monk fruit extract contains zero carbohydrates, zero sodium, zero fat, zero glycemic, is non-GMO, gluten free and keto-friendly. Monk fruit contains the natural fructose and glucose found in other fruits, however, its intense sweetness comes from a type of glycoside called mogroside, or simple sugar compound. But what truly makes monk fruit mogrosides unique are their healthful antioxidant properties.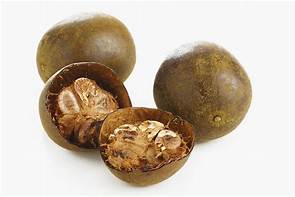 Monk fruit sweeteners have no known side effects compared to consumer reports of gas, bloating or allergic reactions in most non-nutritive sweeteners nor the effects from artificial sweeteners such as Equal and Splenda. So it's easy to see how monk fruit extract can be used in place of sugar or other sweeteners for a no-calorie, no-carb, antioxidant-rich sweet solution.
Monk fruit is challenging to grow, harvest and dry which makes it more expensive to import and process than other non-nutritive sweeteners. Monk fruit sweeteners are heat-stable and safe to use in baked goods. However, using monk fruit sweeteners in baked goods may result in a slightly different appearance, texture and taste than what consumers may expect from the same food made with sugar, since sugar impacts an item's structure and texture. For those watching their intake of sugar – diabetics and consumers on Keto, Paleo and other sugar-restricted diets – monk fruit sweetener can be an excellent natural sugar substitute.
How is Monk Fruit Sweetener Used?
In addition to baked goods, monk fruit sweetener can be used in:
• Coffee, hot tea, iced tea, lemonade or other beverages
• Salad dressings
• Sauces
• Smoothies
• Frostings
• Yogurt
• Oatmeal or other cereals
Sweetener Products offers a wide range of sweeteners for any application. To learn more about monk fruit sweetener – or any of our other sweeteners – contact us.