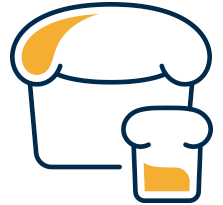 Bulk baking ingredients that help you rise above the rest
Sweetener Products Co. started out as baking ingredients wholesalers, sourcing wholesale baking ingredients for local bakeries back in 1923. Our SQF Level 3-certified facilities, global sourcing network, and experienced team of ingredients experts have grown—and they have only become stronger and more trusted over time.
Our ingredients experts gather standard and organic baking ingredients and organic baking supplies from all around the world to keep you ahead of consumer trends, speed up product manufacturing and development, and save you money. Our cutting-edge laboratory and rigorous testing protocols are designed to save you worry. And because we never outsource delivery, we can promise an additional level of quality assurance and reliability.
When you make Sweetener your baking ingredients supplier, life gets better—and a little bit sweeter. Talk to Sweetener ingredients experts today.
Powerful, personalized solutions from Sweetener
Work with the best ingredient supply source in the west! Our ingredients experts are ready to leverage our extensive sourcing networks and supply chain, smooth out logistics, lower costs, and ship samples, all to get you the premium starches you need for your food and beverage products.