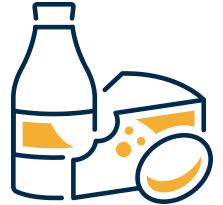 Delivering high quality wholesale dairy ingredients
Sweetener Products Co. has been a trusted supplier to the dairy industry since milk arrived in bottles on doorsteps. Over time, we have become the premier distributor of wholesale dairy ingredients, thanks to SQF Level 3-certified facilities, a global sourcing network, and an experienced team of ingredients experts.
Whether you need whey proteins or sweeteners, we find you the best dairy ingredients and keep you ahead of consumer trends, like clean labels, organics, non-GMO, and sugar reduction.
See how our wholesale dairy ingredients can sweeten your bottom line.
Powerful, personalized solutions from Sweetener
Work with the best ingredient supply source in the west! Our ingredients experts are ready to leverage our extensive sourcing networks and supply chain, smooth out logistics, lower costs, and ship samples, all to get you the premium starches you need for your food and beverage products.