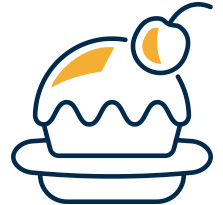 The sweetest deals in confectionary distribution
Sweetener Products Co. has delivered premium candy making ingredients at a great price since 1923. Today, we deliver our innovative ingredient solutions and sweeteners, gums, and sugars to from our SQL Level 3-certified facilities to confectionary manufacturers across California and the Pacific Northwest.
Choosing from our extensive selection of wholesale candy making ingredients will make you feel like a kid in a candy store. We travel the world to find new and familiar flavors and high quality raw ingredients your consumers crave—like organics, non-GMO, and clean label, all-natural sweeteners. We leverage our own distribution network to deliver confectionary supplies on time and on budget.
Let our wholesale confectioners ingredients and expertise inspire your next indulgence. Talk to Sweetener ingredients experts today.
Powerful, personalized solutions from Sweetener
Work with the best ingredient supply source in the west! Our ingredients experts are ready to leverage our extensive sourcing networks and supply chain, smooth out logistics, lower costs, and ship samples, all to get you the premium starches you need for your food and beverage products.